Update 0.8a
Game world was reset! Here are the TOP 50 players with screenshots of their fortresses, just as they were before the reset! A few of them are abandoned and destroyed, but some like this one below, are great. Sorry I had to delete it!
This is the biggest update yet, containing several game play changing elements! Here's a quick intro to the most important things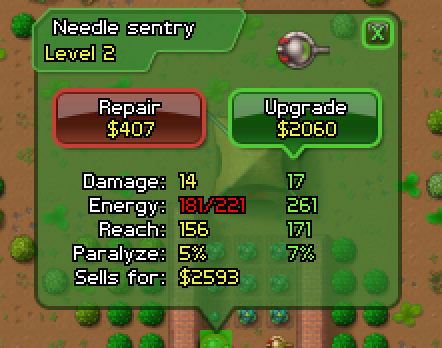 First of all, the number of sentries one can build is limited to 25. Don't worry how ever, sentries are a lot tougher and each sentry can also be upgraded in 25 levels. Upgrading increases impact damage, armor, reach and improves the chance that the sentry fires a special effect shot.
Every sentry (except the homing missiles) now has a special effect. Chance and sentry upgrade level decides if a fired shot is carrying special damage and a particle trail follows that particular shot.
Bleeding - Causes damage over time for organic enemies (blobs, beetles)
Corrosion - About the same as bleeding but only affects mechs (sentries, robots)
Poison - Damages organic creatures over time, but effects are vastly limited if the poisoned one does not move.
Stun - Target gets hit by a massive energy bolt that stuns if briefly, this works for any enemy.
Paralyze - A more effective form of stun, but only effective against organic enemies.
Slow - Slowness halves the movement speed of moving enemies and doubles the reload time when firing. Effective against all.
We also finally got around to showing the real numbers of items in the design mode. This will give valuable information about the strength of walls, specifics about a sentry or even the growth information about a plant.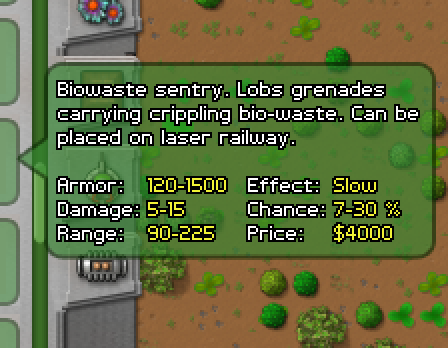 One new sentry was also added, the grenade lobbing biowaste sentry. It fires over walls and explodes in a puddle of dangerous goo. If someone steps in it, they receive damage and also run a risk of catching slowness.
Enemies and players under damage effects are marked with a similar effect to the one that the special damage shot has.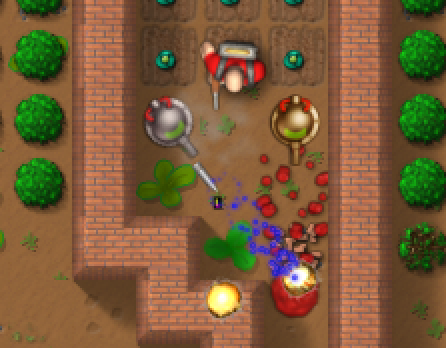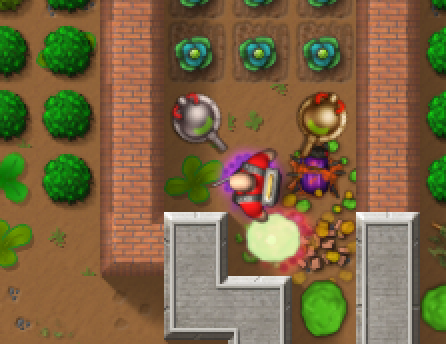 There are new weapons and items in the shop as well.
Sledgehammer - a powerful automatic shotgun that fires very fast and hard.
Wastemaker - a rapid firing bazooka, capable of some serious destruction.
Supercharge - a drug that makes the user fast and invulnerable at the same time.
Full-aid - more potent healing than first aid, and also cures slowness.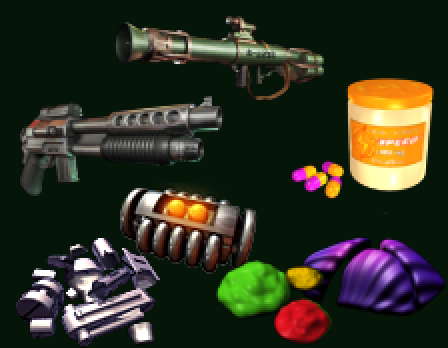 These new items also require rare items that are rarely dropped from different enemies. We've added 4 kinds of enemy drops to collect. They can also be sold for some cash if things are tight.
Glob - nucleus of a blob sometimes remain intact and can be useful.
Carapace - the shield of a beetle is very useful when in one piece.
Scrap metal - mechs can sometimes drop useful high tech components.
CPU - the robots can in addition to scrap metal leave their CPU behind which can be reprogrammed and used in various projects. 
In addition to all this, we also have a lot of changes and tweaks added. Here is a list of the major stuff:
When harvesting plants, the color of the leave particles changes depending on plant.
Price increased for burst laser, minigun and kalashnikov. Minigun also requires crafting.
Blast damage is reduced to 1/3 for the causer of an regular explosion from own grenade/missile.
Walls are more expensive than before.
Added discounted ammo pack of 250 bullets to save a few right clicks.
Age old shadow updating bug has been fixed and some optimizations applied.
Added a register sign on login screen.
The amount of damages caused by and harvest stolen by an attacker is tracked and shown.
Killing an intruding player now gets you $2500 per life, was $250.
Robots will no longer step on regular sentries, it will try and burn/shoot them down instead.
Beetle shots can sometimes be poisonous.
The green blobs can now give you slowness, if you get too close.
Building walls has much less impact on the ranking score.
Sentry targeting in straight corridors work better, especially against larger targets.
Camp cool down increased to 45min after a player attack.
Amoebas in general are quicker to get agitated and chase a player.
Please help us out and balance/test it! Go play now!